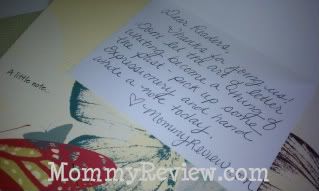 Express yourself and WIN! Expressionery Note Cards
THREE WINNERS!
Product: Gossamer Wing Note Cards
Company: Expressionery
Product Overview: Exclusive custom stationery that you can express yourself with! Adds just the right touch for those special occasions. Expressionery has something for everyone's style. Give as a gift or keep it for yourself.
MommyREVIEW:  YOU HAVEN"T SENT A REAL LETTER TO ANYONE IN YEARS ?!
We reviewed the Gossamer Wing Note Cards they're stunning, sweet, and beautiful. The note cards are made out of a heavy paper that has a nice feel to it, meaning it doesn't feel cheap, it feels expensive. You know how you send a card to someone and you can just tell it came from the 99 cent section because the paper is flimsy… not saying that is bad but; if you want to send something send it with style! To explain better these note cards would seemingly hold up in a memory box so you could look back over the letter again and again.
The art of writing (yes writing with your hand – what's that?) is becoming a long lost art form. I remember pouring over letters I would get from pen pals all over the world. Even as an adult, I did Post Crossing, for awhile. There is just something so MAGICAL about getting mail – that is not bills and not email. Face it emails aren't really poetic and are an everyday occurrence for most of us.
I hope to encourage my children to develop their writing skills by having pen pals and writing notes. I still have notes from my best friend in high school. And my childhood pen pal… was one of my BRIDESMAIDS! We've been friends since the 5th grade and even met several times over the years growing up, thanks to both our parents and later in life traveled to visit each other. She knew me better than most people, as we would pour our angsty hearts out to each other over long letters, notes and cards.
Bring back the magic, send someone a note – just tell them they're thinking about them. It will brighten their day. I know it brightens mine! Want to send me a card? hehe. If you win you'll get the chance to send these Gossamer Wings flying to a friend.
MommyReview's Recommendation: Would you send your mother a note already! She'd love these cute note cards.
Overall Rating: 5
Where to Buy: Expressionery.com
GIVEAWAY: THREE lucky readers will each win a Gossamer Wings Note Card Pack
Mandatory Entry: To enter the giveaway visit Expressionery, and tell us what your favorite product is that you would want to buy for yourself or a friend; comment below.
Extra Enteries (1 Each)
Go to Expressionery on Facebook LIKE them and tell them MommyReview.com, sent you!
Follow Expressionery on Twitter, tell them we sent you
Follow MommyReview on  Twitter
Like MommyReview on Facebook
Subscribe to us on our NEW YouTube Channel
Suggest MommyReview to your friends on Facebook
Suggest MommyReview to your friends on Twitter
Tweet about this Giveaway!
5 Extra Entries: Register on MommyReview
10 Extra Entries: Blog about this Giveaway link and trackback
10 Extra Entries: Put MommyReview's button on your site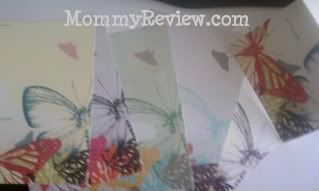 List your entry honestly, they will be checked and non-qualified comments will be removed. This giveaway will end November 27, 2010 at 11PM AZT. Random.org is used to choose the three winners and the winner has 48 hours to respond, before another winner will be chosen. Giveaway is open to U.S. addresses only.
This product was sent to me for review by the company or PR company. The opinions expressed are 100 % mine as are my experiences. Compensation is never received for my opinion, opinions are mine alone and are not the opinions of the company.