As moms, we sometimes have to schedule that special time in with your husband, You know after the dishes, errands, drop offs, pick ups… you get the picture. That's unfortunate but that is also life! We are tired emotionally and physically at times, and sex can be the last thing on your mind. Oh I know, WHAT?! How dare we talk about sex amongst ourselves. Well its' obvious we all have it, since we have children.
So, don't feel bad setting up a bedroom date with your hubby. It will both give you something to look forward to! It may also be the the only time you get some uninterrupted romance (after the kids go to bed, so there is no "mom where are you?" on the other side of the door). When you take time for yourself and your partner you are both happier and thus better parents. Just the simplest gesture can turn a ho-hum night into a WOW I can't wait to do that again night!
If you need a little push to get the romance flowing check out EdenFantasys. We suggest trying out the Lelo Flicker Massage Candle. It is a scented candle that creates ambiance and then after about 20 minutes the candle turns into massage oil, it's sexy and romantic – something that both mom and dad will enjoy!
For more tips of revving up your passion check out EdenCafe.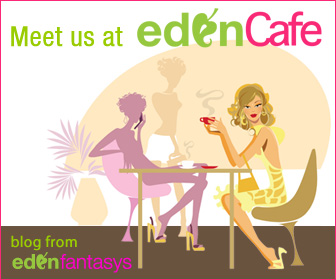 This is a compensated post written for EdenFantasys, I come up with my own content and have creative control over what I write. These are my opinions and do not reflect the opinions of the company.